Error 2253 Staging Issue
Just to interject here.
My site is hosted through siteground and I don't have any issues at all as long as I have the two pages set as per installation instructions:
I did have this same problem upon initial installation but this was due to a miss match of URL's
Is your staging URL currently different from your site URL by any chance as I think this would cause similar issues.
I hope this helps.
Hi
I am using Gtranslate plugin that has a different subdomain per each language
The above fix made the error disappear but that doesnt help because the topic was not saved into the forum - the page just redirected to itself
And then there s another error -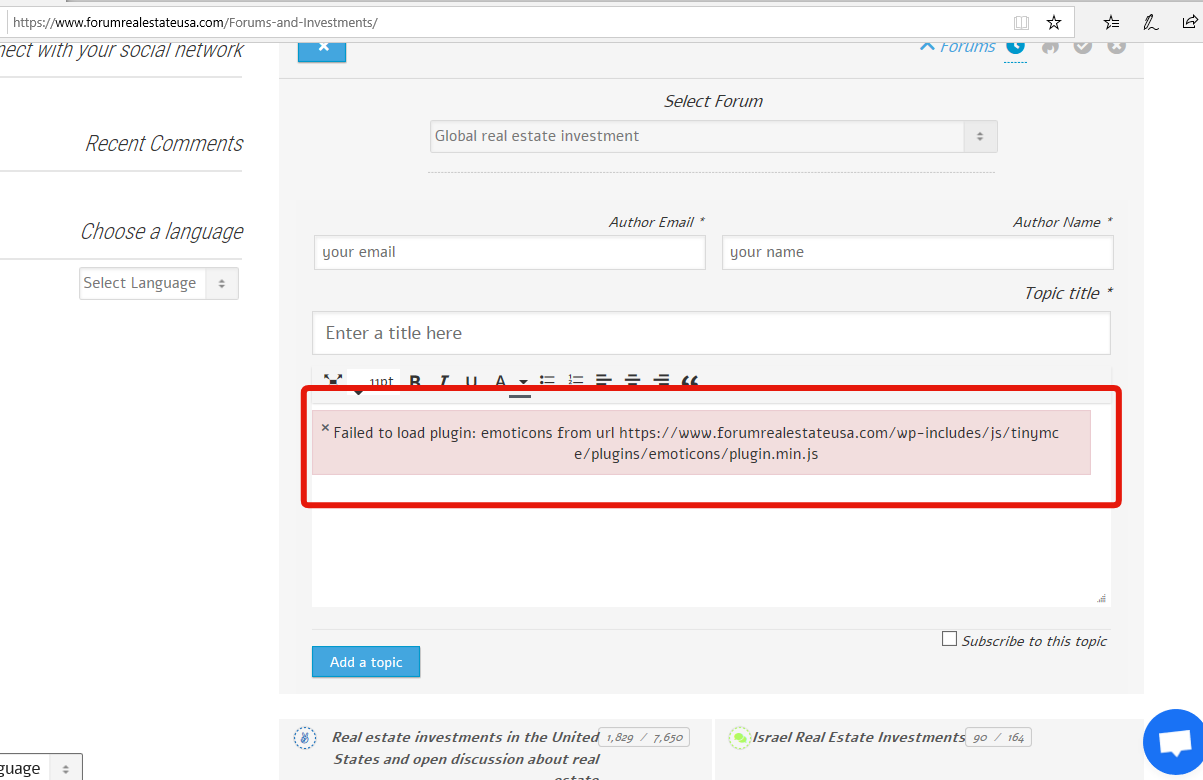 Failed to load plugin: wpforo_spoiler_button from url https://www.forumrealestateusa.com/wp-includes/js/tinymce/plugins/wpforo_spoiler_button/plugin.min.js
Why the plugin doesnt use relative links instead of absolute ones?
The domain www.forumrealestateusa.com is not a real domain but the english version of the site
Is there a way to set a constant HTTP_REFERER of the original domain?
I have tried to comment that entire block to see if it will just not check the referral, but now when posting a topic, the worker wheel just spins for ever
// I have commented the entire section to have the forum enter posts because Gtranslate have differet HTTP_REFERER for each post
// if( $mode == 'ref' || $mode == 'full'){
//
// if( !isset($_SERVER['HTTP_REFERER']) || !$_SERVER['HTTP_REFERER'] ) {
//
// //exit('Error 2252 | Please contact to forum admin.');
//
// }
//
// $ref = $_SERVER['HTTP_REFERER'];
//
// $url = get_bloginfo('url');
//
// $ref_domain = trim(strtolower(parse_url($ref, PHP_URL_HOST)));
//
// $web_domain = trim(strtolower(parse_url($url, PHP_URL_HOST)));
//
// if( $ref_domain != $web_domain ){
//
// //exit('Error 2253 | Please contact to forum admin.');
//
// }
//
// }